#BazakeFactCheck: Did Shinzo Abe survive the assassination attempt and leave hospital fit and well?
It has been claimed in a syndicated news report by SyndiNews that the former Japanese prime minister left hospital fit and well on Monday 11th July.
NEWS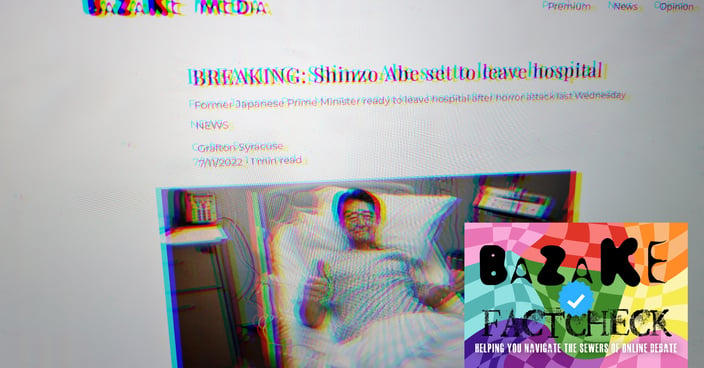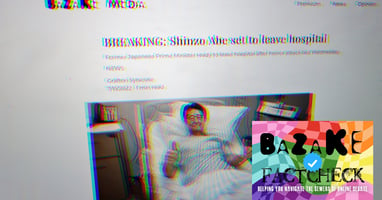 #BazakeFactCheck: Improving the internet as a place for reasoned, factual debate one step at a time. (Bazake Media 2022)
SyndiNews, the "cut-price" syndicated news service that operates out of several regional centres around the world, released a short news item to its subscribers yesterday afternoon claiming that former Japanese prime minister Shinzo Abe was due to leave hospital having - contrary to seemingly every other report around the world - survived Friday's assassination attempt.
A number of publications, including ourselves, re-published the syndicated report sparking a torrent of confusion and disgust on social media.
The #BazakeFactCheck team will run the rule over this claim with the aid of expert academics.
The Article
The short article itself was strewn with a number of incidental errors including a claim Mr. Abe was shot on Wednesday rather than Friday, and the inaccurate suggestion that the politician had once co-hosted a chat show with Leicester City FC striker Jamie Vardy. We have attempted to verify both these claims and can now confirm they are false.
The Assassination
We spoke to Professor Winston Trent, a member of the criminology department at University College Borehamwood who specialises in political assassinations.
"I'm sorry, but that man was blown away. I grant you it was a rudimentary homemade shotgun held together by duct tape, but it was effective."
Professor Trent continued, "He was in his, what, late sixties? He's been shotgunned from behind at that age, of course he's dead. And even if he had survived, he'd be a mangled mess, he wouldn't be waltzing out of the hospital and posing for photos giving the double thumbs-up after two days.
"I'm honestly surprised you have deemed this worthy of wasting my time. I'm a very busy man. Good day to you."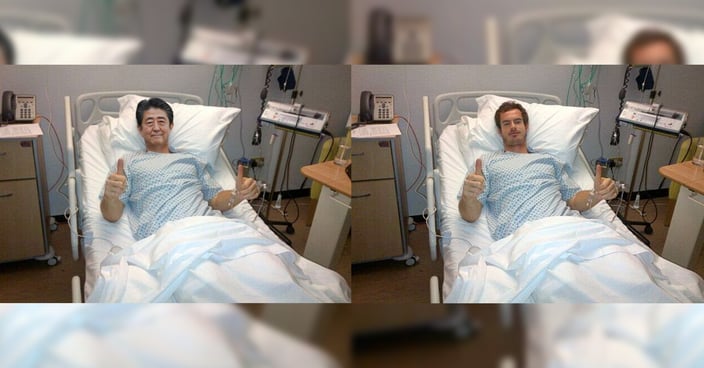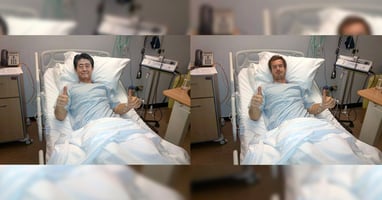 #Coincidence, Or Something More... Sinister?: This photograph of English tennis star Andy Murray shows a striking similarity to SyndiNews's image of Shinzo Abe. (Bazake Media 2022)
The Photograph
Pennol Jastares is a professor of photography at Borehamwood. "There are a number of reasons why the two photos appear to be identical. First, the angle of the camera is the same in both photos. Second, the lighting is identical in both photos. Third, the background is identical in both photos. Finally, the composition of the two photos is identical.
"When two identical photos are taken from the same angle, with the same lighting, and with the same background, it is not surprising that they appear to be identical. In both photos, what appears to be Andy Murray's body is lying in a hospital bed and giving a double thumbs up. This identical composition makes the two photos appear even more identical.
"But there is one subtle difference. In one of the photos it is the head of Shinzo Abe, and in the other it is the head of Andy Murray. So it could well be fake, but it could also be a coincidence. But without high definition originals to fully study I am unfortunately unable to give a conclusive answer."
The SyndiNews Response
A spokesperson for SyndiNews East Asia explained, "We apologise unreservedly for this error which our internal investigations have revealed was the work of a disgruntled former employee who still had access to the internal software. Thankfully nearly all - but not quite all - of our customers exert a sensible degree of editorial oversight and did not post this inaccurate and offensive piece."
The Bazake Response
We spoke to all three co-founders of Bazake Media.
Oliver Laughdugry said, "I am so incredibly sorry. We have absolutely no idea how this happened and we will be reviewing our publishing and verification processes to ensure that nothing like this ever happens again. Full blame for this episode lies solely with SyndiNews, not Bazake. However, we wholeheartedly apologise for any small role we inadvertently played in increasing the distress of the Japanese nation during this difficult period."
Robert Zands added, "I absolutely adore Japanese food and recently their wine production has come into a league of its own. Until the other day I had no idea who Shinzo Abe is/was and I want it put on record that I have absolutely no opinion on this issue. It was Kelvin that did everything."
However, their colleague Kelvin Knox was more bullish. "I still think the jury is out on this one. I have my own sources in Japan who assure me Shinzo Abe is alive and kicking. For me it would be moral cowardice to delete the article, or even apologise. And that's that."
The Verdict
Given the weight of evidence to the contrary and the SyndiNews disavowal of the article we can say with almost complete certainty that the claim that Shinzo Abe is still alive is false.
We detect only a 0.03% likelihood that this claim is true.