Meet Captain Tom The Cluster Bomb
British arms manufacturer names new weapons system in honour of the late Captain Sir Tom Moore
NEWS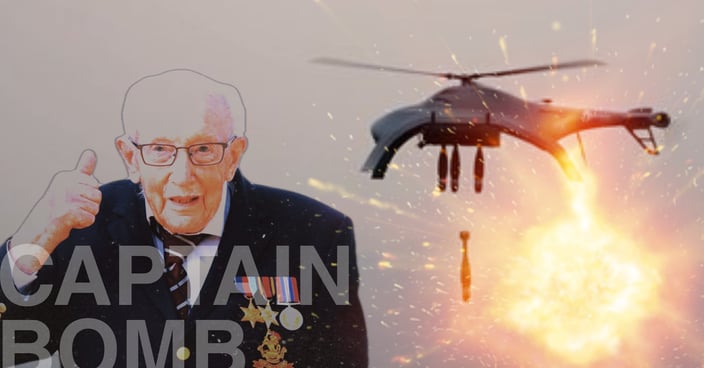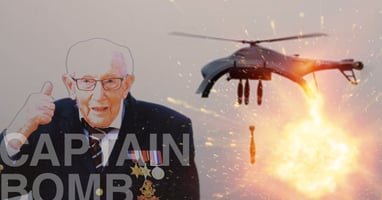 TOMORROW WILL BE DEADLIER: The Icarus Mk. 4 drone in action.
A British arms manufacturer has produced what they claim to be the world's deadliest cluster bomb, and they have dedicated it to the late lockdown hero, Captain Sir Tom Moore.
Top science boffins at the Enfield based arms manufacturers, Icarus Military Drones, have designed the deadly ordnance to leave no inch of ground uncovered by their special mixture of high explosives and deadly white phosphorus mini-bombs. But don't let their size fool you, these bombs will rip the skin off any bad guy who stray into their deadly path.
A spokesperson for Icarus Military Drones explained why they chose to call their new range of cluster bombs the "The Captain Sir Tom Moore Anti-Personnel Ordnance System". "During the pandemic, many of us at our Enfield R&D facility were particularly downhearted, unable to test any of our weapons on our herd of pigs. But when Captain Tom appeared on the news, we couldn't help but be moved by his heroic walks around his garden. So, when it came to naming our latest weapons system, there was only one name which came to mind: Captain Sir Tom Moore."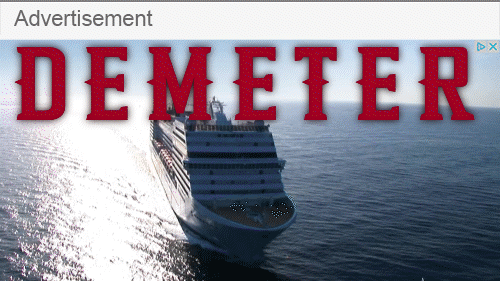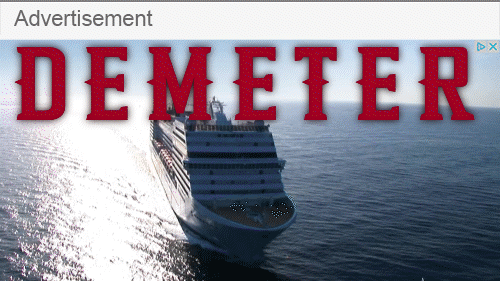 Debuting earlier this year at the Dubai Expo Military Expenditure Pavilion, the Captain Bombs have been wowing arms dealers from around the world with his versatile killing possibilities, not to mention his bargain basement price. So far, Icarus have taken orders from Saudi Arabia, Myanmar, Azerbaijan, and the Democratic Republic of Congo – no doubt wowed by the elderly coronavirus hero's lockdown exploits.
But this is not just a money-making exercise for Icarus who are keen to carry on the spirit of Captain Tom's charity work by donating their Integrated Anti-Personnel Drone System to Ukrainian freedom fighters. The company have revealed they are currently training members of the Ukrainian Azov Battalion to use the drones at their testing base in Foulness Island, Essex.
"It really makes it all worthwhile knowing the Captain Tom Cluster Bombs will be helping to defeat the Russian cockroaches on the battlefield," said Icarus' CEO, Biffin Haxton. "The Azov guys are over the moon with the system and are keen to get the Icarus Mk. 4 flying over the Donbas region and raining hell over those who stand in their way."
BAZAKE media have contacted Captain Tom Moore's daughter for comment from her Caribbean holiday island, but as yet have received no reply.